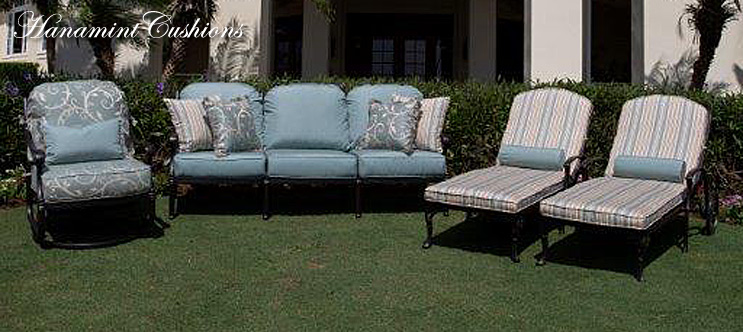 Above:
Hanamint Grand Tuscany Collection.
Specifications:
Hanamint Cushions
* Designed to fit Hanamint Furniture Only * Specifications and cushion design are similar to O.E.M. but may not be exact. * No alterations to size, fill, or ties * Foam and Polyester fill * Cushions are boxed with self welt * Contrasting welt available with upcharge.
Hanamint Cushions are designed to fit the following collections.
PLEASE NOTE WE DO NOT SELL FURNITURE ON THIS SITE.
Collections:
Berkshire, Newport, Estate, Sedona, Valenica, Trellis, Constantine, Shangri-La, Legacy, Vista, Mona Lisa, Sonoma, Westminister, Grandview, Tuscany, Grand Tuscany, Saint Augustine, Saint James, Saint Moritz, Windsor, Venice, Pasha, Chateau, Lawndale, Coconut Grove, Malibu and Bayview.
Please note that the Tuscany and Grand Tuscany are two different collections and cushion sizes are different. Please confirm your collection before ordering.
Hanamint cushion seats are boxed and welted. Contrasting welt is also available by calling 877-567-1009. Please scroll down to find your collection of Hanamint replacement cushions. If you do not see your collection, please call us as we have other collections available that are not shown.
Thank you for shopping with Four Seasons Outdoor Living.